Saint Patrick Academy welcomes parent volunteers. As our good school grows, the need for volunteers increases. To this end, and to further encourage community, we have established the Parent Service Program.
Parent Service Program
Each parent is responsible for 15 service hours (30 per couple) to be completed between the first and the last day of school. To help us stay organized and to create some accountable, please use the honor system with the form below to keep track of your hours. This form is due in the front office in early May 2019.
Check here for ways to help: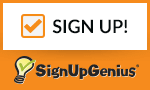 Please note that there is an official process for parents who regularly volunteer with our school children.
Fill Out Application
Complete a NH criminal background check – needs to be notarized

If you have lived in Massachusetts in the last 5 years, you have to complete this form
If you have lived anywhere other than NH or MA in the last five years, fill out this form

Our Safe Environment Coordinator will check the Registry
Complete the online Shield the Vulnerable Training
Volunteers have 30 days to complete the requirements.
If you would like to volunteer at our wonderful school, please do not hesitate to contact the Academy office.